Washington DC Metro Real Estate Market: November Insights and Analysis
Posted by Devon Fox on Monday, November 13, 2023 at 11:30:13 AM
By Devon Fox / November 13, 2023
Comment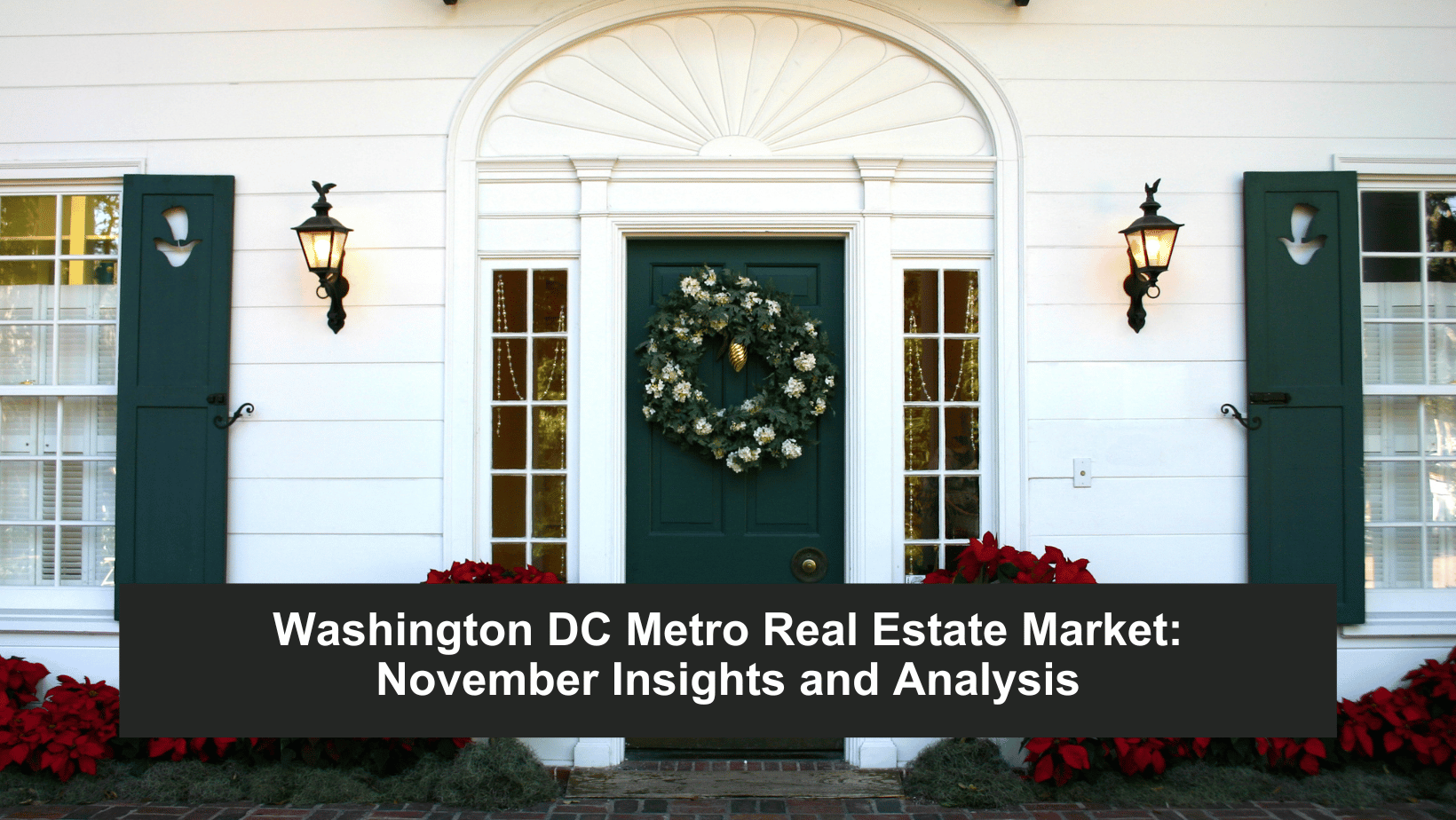 Washington DC Metro Real Estate Market: November Insights and Analysis
Impact of Potential Interest Rate Cuts on the Housing Market
Recent developments in economic indicators suggest a significant shift in the Federal Reserve's monetary policy, with a pivot towards interest rate cuts as early as May. This news, stemming from a cooling in inflation as reported by Reuters, signals a potential easing of the financial environment. We've already seen the average interest rates move down nationally to 7.36%. The lowest since September 20th. I'm seeing local rates quoted at 6.90% for a conforming 30 year fixed, FHA & VA loans at 6.375%! Contact us today to begin your home buying journey.
For those contemplating a home purchase in the DC Metro housing market, this shift carries substantial implications. Historically, lower interest rates tend to boost buyer demand due to more affordable borrowing costs. Consequently, if the Federal Reserve reduces rates, we might witness a considerable increase in housing demand. This surge in buyer interest could lead to a notable rise in property prices. Therefore, if you're on the fence about buying, it's prudent to consider entering the market now. With the likelihood of rising prices following a rate cut, acting swiftly could be a strategic move to capitalize on current market conditions before the anticipated upswing in demand and pricing takes effect.
Welcome to our latest deep-dive into the DC Metro Housing Market, expertly curated for November 2023. If you're stepping into the real estate ring as a buyer or seller, you're in the right place. The Fox Homes Team is here to arm you with the insights and analysis you need to navigate the waves of the current market. From the charming suburban and city blends in Arlington to the bustling downtown streets of Washington D.C., we're breaking down the numbers and unpacking the trends that matter to you.
The Pulse of the Market: Median Sold Prices by County
As we delve into the heart of the 2023 DC Metro housing market, we're met with a tapestry of fluctuating prices and shifting dynamics. The median sold prices in various counties are pivotal indicators for assessing market health and potential investment opportunities. Let's explore these in detail.
Table of Contents
Washington D.C. Metron Region Housing Market: Broader Perspective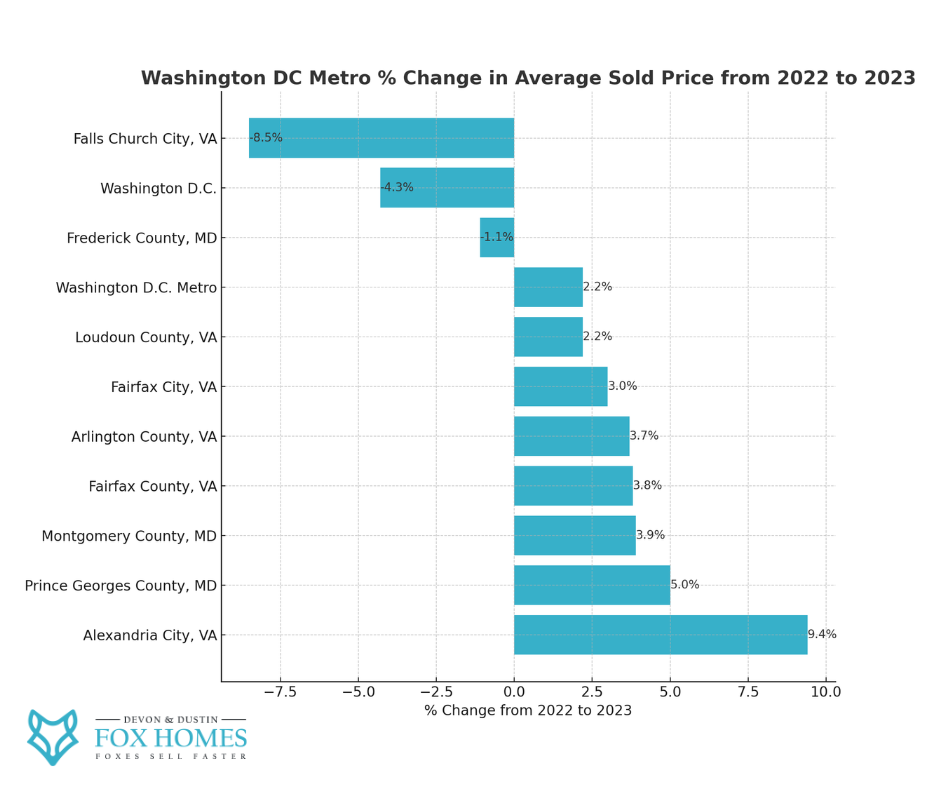 Zooming out to the Washington D.C. Metro area, we observe a collective 2.2% growth in median sold prices, now at $572,500. The region's aggregate stability speaks to its overarching appeal.
Falls Church City

November Housing Market: A Shift in the Market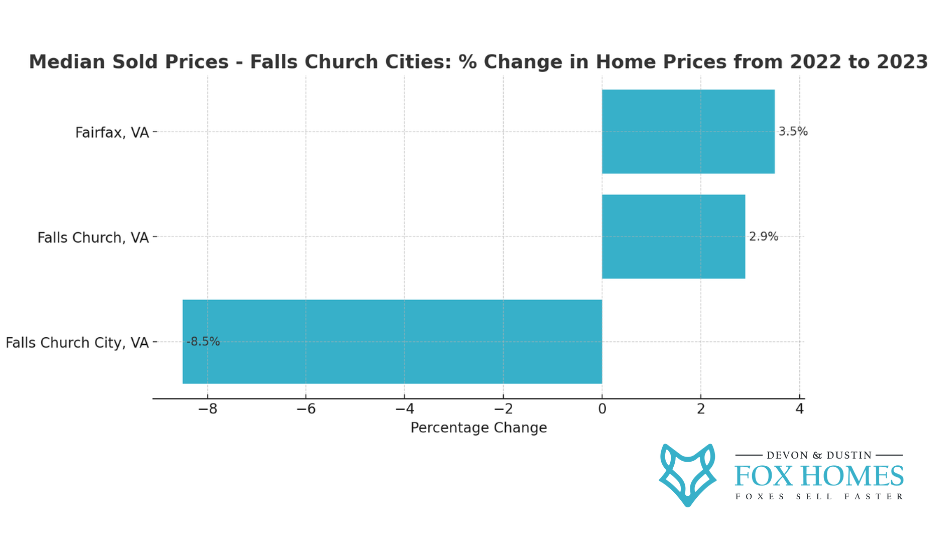 At first glance, the numbers paint a stark picture: Falls Church City's median sold price stands at $860,000, down from last year's $940,000. This 8.50% decline may seem troubling, but it's a siren call for savvy investors and homebuyers looking for a window of opportunity in a usually competitive market.
When we place Falls Church City's housing market next to its neighbors, like Fairfax, we notice different patterns emerging. Fairfax has experienced a growth of 3.50% in median sold prices. This comparative analysis not only helps us understand the unique position of Falls Church City but also underscores the diversity of the regional real estate landscape.
What's behind the downturn? Our analysis suggests a confluence of factors, from interest rate hikes to a bloated inventory that's finally aligning with demand. It's a complex narrative of market correction, one that may benefit buyers in the short term while signaling a stabilizing market for long-term investments.
Arlington County

November Housing Market: Steady Ascension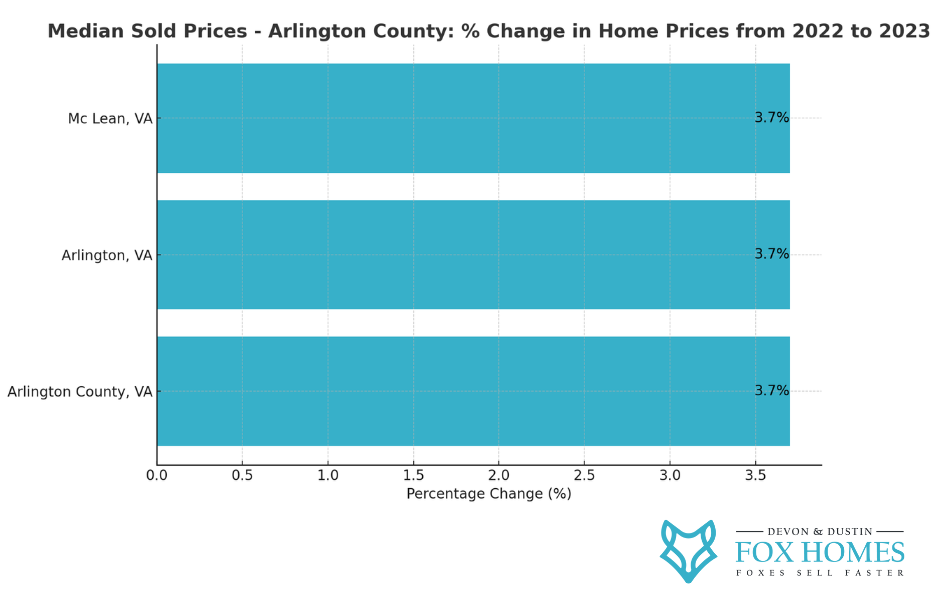 In contrast, Arlington County's robust market continues its ascent, marking a 3.7% increase in median sold prices to $679,500. The county's blend of urban convenience and suburban peace continues to draw in a diverse crowd, from young professionals to families.
The median sold price, a figure that slices right through the high and low ends of the market to give us the purest middle-ground perspective, has always been a reliable indicator of the market's health. In Arlington, that number is looking particularly rosy, showing a steadfast climb that mirrors the determination of the county's residents.
This year, the story is one of growth, with median sold prices in Arlington County reaching a significant milestone. There's been a 3.70% jump from last year's numbers, signaling a robust market. What's more, this isn't a solitary peak; it's part of an upward trend that's been witnessed across the board.
In Detail:
McLean, VA: The jewel in the crown of Arlington's market,

McLean

, has always commanded a premium, and this year is no different. From the grand estates to the charming bungalows, the increase from $1,230,000 in 2022 to $1,275,000 in 2023 reflects a community that's in high demand. It's a place where luxury meets convenience, and the prices reflect that perfect marriage.

Arlington, VA

&

Arlington County, VA

: The namesake locales of the county have always been a bellwether for the region's economic health. The consistent price increase from $655,000 in 2022 to $679,500 in 2023 across both the city and the county suggests a widespread appeal. Whether it's the allure of vibrant neighborhoods, the promise of top-notch schools, or the charm of local businesses, buyers are clearly willing to invest a bit more for their slice of

Arlington

life.
Alexandria City

November Housing Market: Historic Charm with Modern Growth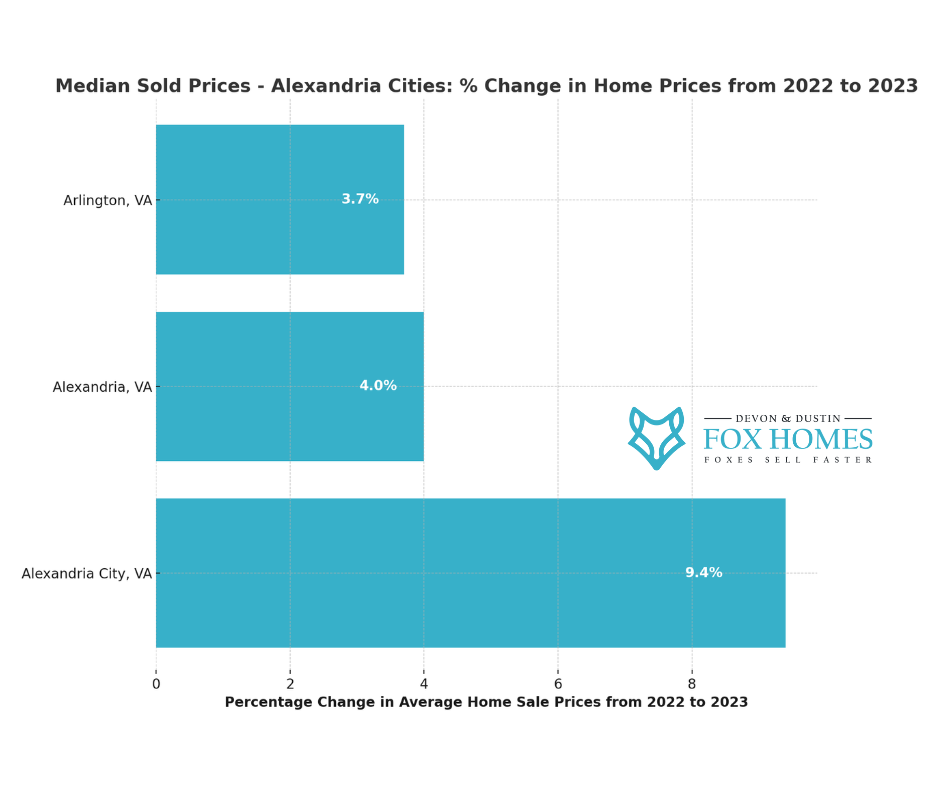 Alexandria's historic streets are echoing with growth, as median sold prices have risen by 9.4%, reaching $640,000. This increase underscores the city's success in intertwining its rich heritage with the needs of a modern populace. A 9.40% leap in median sold prices is more than a statistic; it's a testament to Alexandria City's desirability and a beacon for potential investment. For homeowners, this uptick represents a robust return on investment, while for buyers, it underscores the need for swift action in a competitive market. However, it's essential to note that while prices are climbing, they do so against a backdrop of rising incomes and a strong local economy, keeping affordability within reach for many.
Alexandria

's Real Estate Almanac: The Year's Story So Far
Arlington, VA

: The steady climb of 3.70% to a median sold price of $679,500

Alexandria City, VA

: A notable leap of 9.40%, reaching a new median of $640,000

Alexandria, VA

: Consistent growth with a 4% increase, marking the median at $620,000
Washington, DC

November Housing Market: A Market Adjusting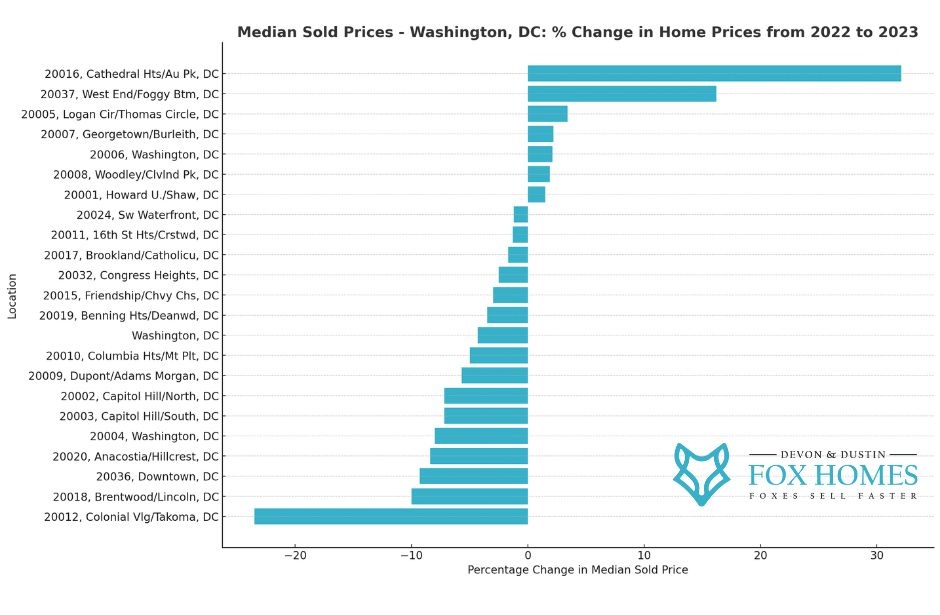 The pulse of the nation, Washington D.C., shows a 4.3% decline in median sold prices, now at $630,000. The ever-changing demographic and economic landscapes provide a complex but intriguing market narrative.
Friendship Heights and Chevy Chase (ZIP code 20015), known for their charming blend of urban convenience and suburban tranquility, have slightly receded from their peak. A modest -3% change in median sold price from 2022 suggests a market that's correcting itself, finding a new equilibrium after the feverish highs of a seller's market. It's a neighborhood where the whispers of policy from Capitol Hill meet the laughter of children playing in tree-lined parks, where every brick and cobblestone seems steeped in both history and modernity.
In contrast, Cathedral Heights and American University Park (ZIP code 20016) have seen an astounding leap of 32.10% in median home prices. These leafy streets, awash with the gothic spires of the National Cathedral, have drawn in a wave of buyers enchanted by the allure of prestige and serenity. The market here tells a tale of renewed demand, a crescendo in a symphony of urban development.
Yet, every market has its valleys. The idyllic, village-like atmosphere of Colonial Village and Takoma (ZIP code 20012) has experienced a -23.50% shift, a narrative twist in this year's market story. Despite this, the area's enduring charm and the strong community feel continue to draw interest, hinting at a plot that is far from over.
The cobblestone streets of Georgetown and Burleith (ZIP code 20007), often bustling with the latest in fashion and cuisine, have told a steadier story. With a 2.20% increase in median sold prices, these neighborhoods remain as resilient and dynamic as the Potomac River that flows alongside them.
As we turn the pages to Capitol Hill (ZIP codes 20003 and 20002), we see a dichotomy of tales. South Capitol Hill has seen a decrease of -7.20%, while its northern counterpart shares the same percentage decrease. This illustrates a market adjusting, perhaps, to the rhythm of political and economic heartbeats that pulse through the city's veins.
And in the heart of the city, the broad avenues and storied institutions tell of a slight chill in the air with a -4.30% change. Washington, DC, as a whole, remains a protagonist in our tale, with a narrative rich in history and ambition, always ready for a new chapter.
Fairfax City

November Housing Market: Consistent and Strong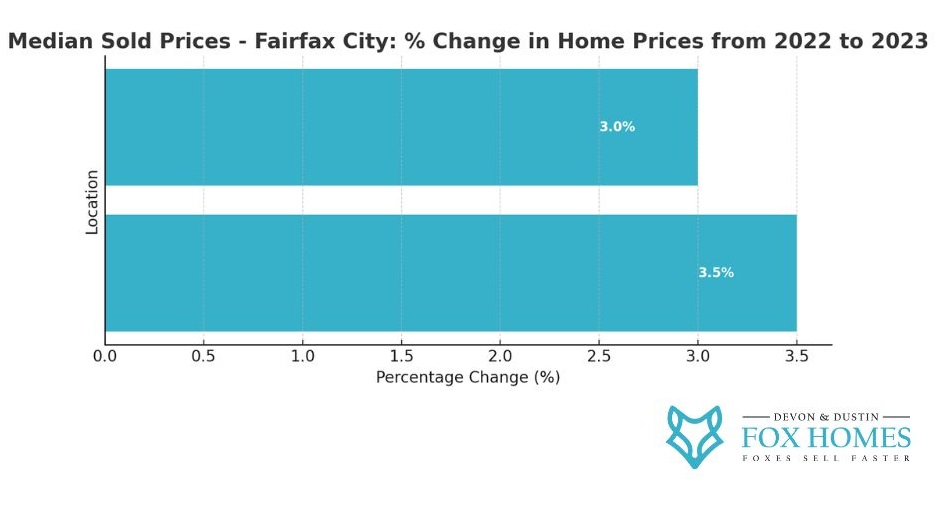 As the year unfolds, the median sold prices in Fairfax City reflect a narrative of resilience and growth. In the dance of the market, numbers twirl upwards, with Fairfax, VA seeing an increase to $700,000 — up 3.50% from 2022. Fairfax City, while performing its own ballet, steps up to $680,000, a 3% rise from the previous year. Its reputation for excellent schools and community-focused living keeps the market buoyant.
Understanding the Median Sold Price: The median sold price is the 'middle' sale price of homes, offering a realistic snapshot of the market, unaffected by extreme highs or lows. It's the story of the everyday buyer and seller, not the outliers.
Year-to-Year Comparisons:

Fairfax

and Fairfax City: Delve into a year-by-year comparison, weaving the tale of growth. The slight increase in median sold prices may seem modest, but it's a reflection of a market that's steadily climbing, providing stability in a world that's anything but.
What Does a 3% Increase Really Mean? In the grand scheme of things, a 3% increase might sound minor. However, in the narrative of real estate, this is a sign of a healthy market, indicative of a growing demand and a robust local economy. It's the kind of growth that promises opportunity without the fear of a bubble.
Loudoun County November Housing Market: Suburban Growth Continues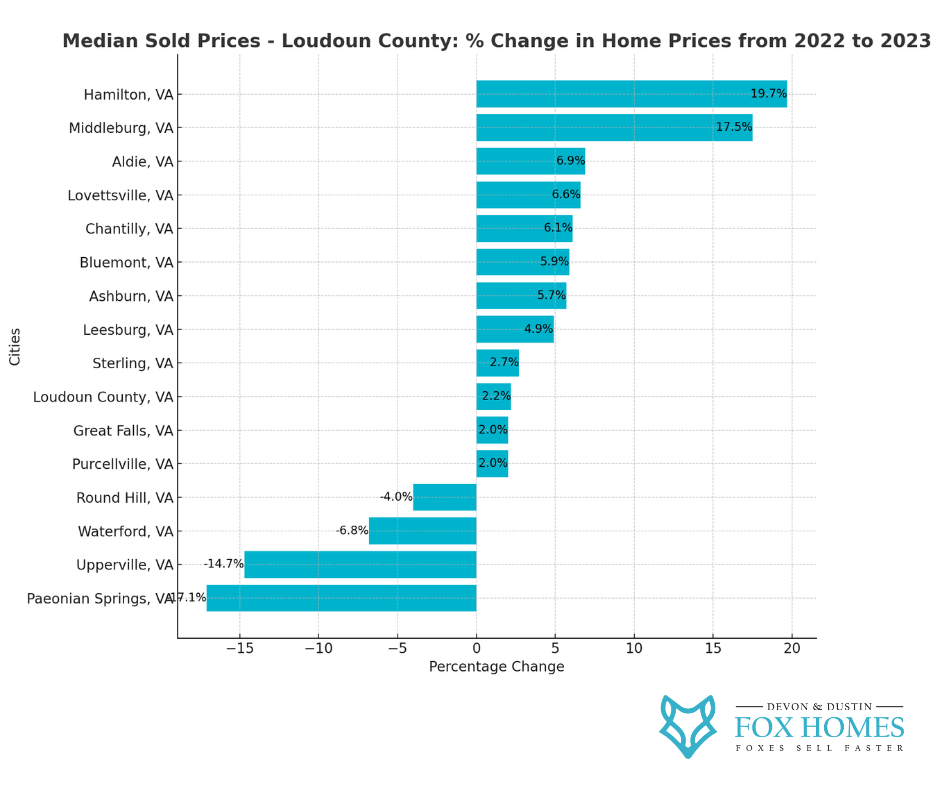 Loudoun County has sustained its growth trajectory with a 2.2% increase to $689,990. The county's blend of rural charm and tech-forward thinking makes it a unique and appealing market segment.
Loudoun County, VA: The heart of the region, Loudoun County, is witnessing a steady 2.2% growth in median home prices. This reflects a robust and stable market, inviting buyers to be part of a diverse and ever-evolving community that's rich in history and ripe with opportunity. Leesburg, VA: Leesburg presents a vibrant market with a 4.9% increase in median sold prices. As the county seat, it marries colonial charm with modern amenities, making it an attractive hub for families and professionals alike. Chantilly, VA: The skies of Chantilly are not just for air and space exploration but also for soaring real estate values, with a 6.1% hike. Its proximity to tech corridors and historical sites makes it an attractive launchpad for homeowners and investors.
Sterling, VA: Sterling is rising with a 2.7% growth, an indicator of its solid community infrastructure and appeal to those seeking a blend of suburban tranquility and accessibility to the capital. Middleburg, VA: In the equestrian capital, Middleburg, a significant 17.5% rise in median home prices reflects its exclusive market niche. This town offers a unique blend of rural aristocracy and vineyard-laden landscapes, attracting a luxury-seeking demographic. Upperville, VA: Upperville shows a notable market adjustment with a -14.7% decrease. This could indicate a market correction or an opportunity for buyers to enter a usually high-barrier market at more approachable price points.
Waterford, VA: The historic village of Waterford sees a -6.8% shift in median sold prices. As a UNESCO site, it offers a unique proposition for buyers interested in preservation and heritage, which may account for market fluctuations as it finds its equilibrium. Paeonian Springs, VA: The notable -17.1% change in Paeonian Springs might raise eyebrows, but it's an invitation to uncover hidden narratives. It's a call to those who see beyond the numbers and value the tranquility and natural springs that define this hidden gem.
Great Falls, VA: Nestled amidst lush greenery, Great Falls showcases a 2% rise in median home prices, signaling a consistent demand for its tranquil, yet upscale lifestyle. Here, the symphony of the Potomac's cascades accompanies homeowners to their luxurious retreats, now valued more than ever.
Aldie, VA: Aldie's historical aura, combined with a 6.9% surge in property values, tells a tale of a town where past and progress dance in harmony. The vintage charm of vineyards and the promise of modern developments make Aldie a real estate gem. Purcellville, VA: With a modest 2% uptick in median sold prices, Purcellville's appeal lies in its community spirit and the echoes of Americana. This increase paints a picture of a town that's holding strong to its roots while gently welcoming growth. Lovettsville, VA: A 6.6% climb in home prices reflects Lovettsville's rising popularity. Known for its friendly faces and festive gatherings, Lovettsville is becoming a sought-after spot for those seeking a close-knit community vibe.
Bluemont, VA: The 5.9% jump in median prices in Bluemont captures the essence of a countryside haven for nature lovers and those seeking refuge from the city's bustle. This hike is a testament to its untouched beauty and serene living. Ashburn, VA: Ashburn's 5.7% appreciation mirrors its reputation as a tech hub, with the promise of innovation driving its real estate market forward. As the digital landscape flourishes, so does the value of its homes. Round Hill, VA: The unexpected 4% dip in Round Hill's home prices might read like a mystery novel, but it's merely the market's natural ebb and flow. This opens a chapter for savvy investors looking for potential in every plot twist. Hamilton, VA: A staggering 19.7% leap in median home prices showcases Hamilton's blockbuster market performance, turning heads with its mix of rural charm and upscale living.
Fairfax County November Housing Market: The Market's Heartbeat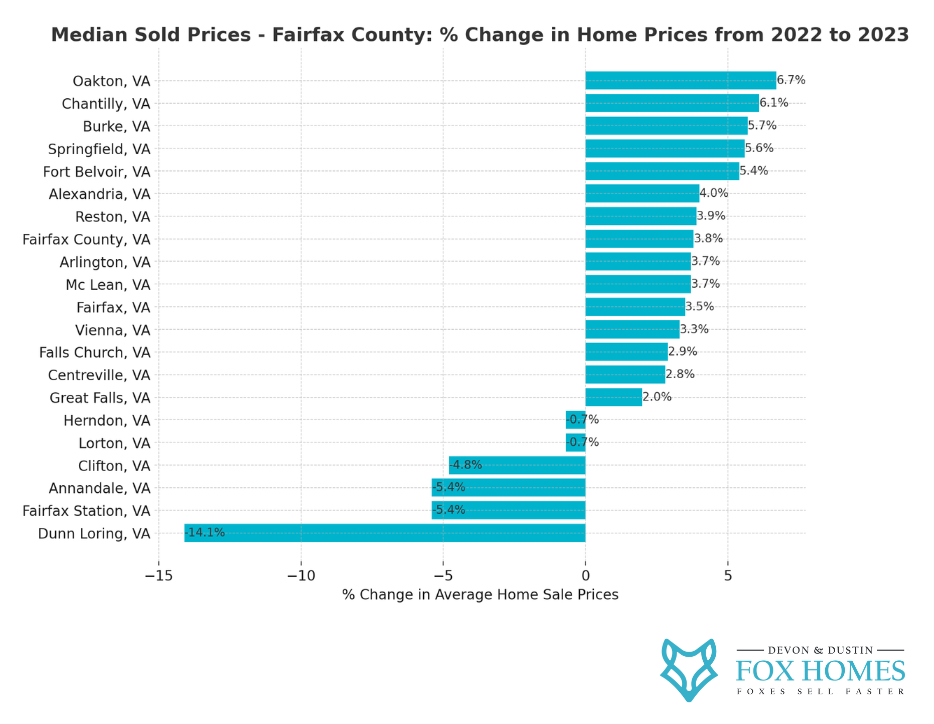 As one of the most populous counties, Fairfax County has witnessed a 3.8% rise in median sold prices to $685,000. Its economic diversity and quality of life remain significant draws.
As we sift through the data, the story of Fairfax County's housing market unfolds with each percentage point. In the year-to-year comparison, Great Falls stands as a prime example of sustained growth, with median home prices rising from $1,528,500 in 2022 to $1,559,000 in 2023, marking a 2% increase. This increment, although seemingly modest, underscores the area's resilience and consistent demand for its high-end offerings.
In Mc Lean, we've observed a more pronounced appreciation of 3.7%, with median prices escalating to $1,275,000. This reflects the area's desirability, likely bolstered by its blend of suburban tranquility and proximity to the nation's capital.
However, the market isn't without its dips. Fairfax Station, known for its spacious properties and community-centric living, has seen a 5.4% decrease in median sold prices. This presents a narrative twist, suggesting a possible buyers' market where negotiating power may be shifting.
Vienna's market tells a tale of steady ascent, with a 3.3% increase to a median price of $1,007,500. Here, the blend of excellent schools, community amenities, and charming downtown areas continue to attract buyers despite broader market uncertainties.
Clifton and Oakton offer contrasting market snapshots, with Clifton experiencing a 4.8% decrease, while Oakton enjoys a notable 6.7% surge in median prices. The divergent trends in these neighboring communities highlight the hyper-local nature of real estate, where even adjacent markets can perform differently based on unique local factors.
Arlington and Fairfax cities both report a healthy growth of 3.7% and 3.5%, respectively. These areas, with their mix of urban conveniences and suburban comfort, consistently attract a diverse range of buyers.
Across the board, Fairfax County's aggregate growth of 3.8% in median home prices is a testament to the area's overall market stability and appeal. This county-wide growth is an essential barometer for the health of the local economy, reflecting a positive trend for homeowners and investors alike.
At the more granular level, Chantilly, Burke, and Springfield showcase impressive growth rates, indicating a burgeoning demand. Conversely, Annandale and Herndon show slight reductions, which may open up discussions about market adjustments or increased affordability in these areas.
Lastly, the most dramatic change is seen in Dunn Loring, with a significant 14.1% decrease in median sold prices. While such a figure may seem alarming, it's important to contextualize these numbers within Dunn Loring's small, often fluctuating market, which can see large percentage swings due to the sale of just a few high-priced or low-priced homes.
Montgomery County, MD November Housing Market: A Steady Contender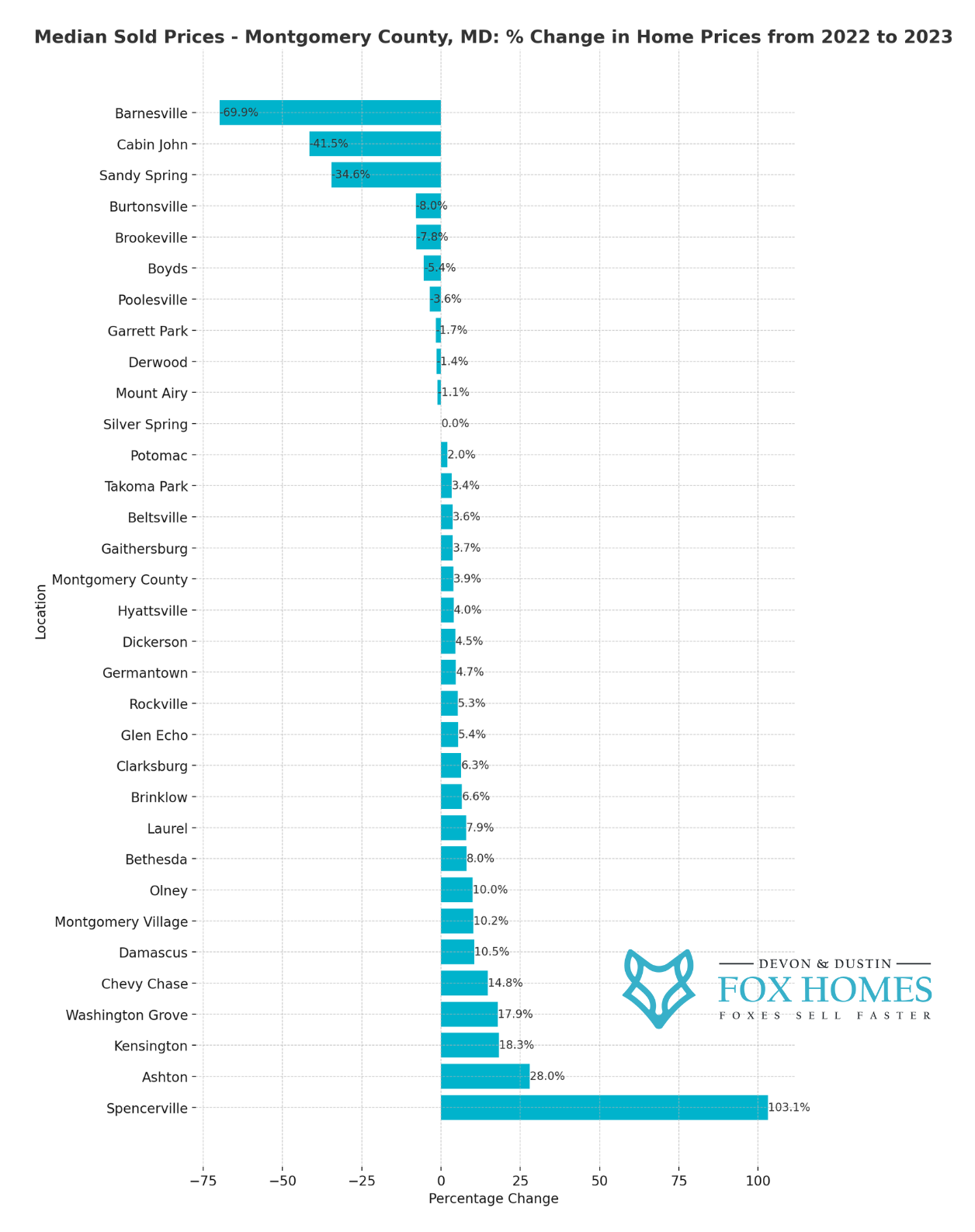 Montgomery County, MD, continues to hold steady, with a 3.9% increase to $580,000. Its strategic location and community investment are key growth drivers.
Starting our journey in Garrett Park, we've witnessed a modest decrease of -1.7% in median sold prices, dipping from last year's $1,200,000 to $1,180,000. This slight downturn might seem concerning at a glance, but in the grand tapestry of the housing market, it's a minor fluctuation that could signal a buyer's advantage in a typically seller-favored area.
As we venture into Potomac, the numbers tell a different story. Here, median sold prices have ascended by 2%, a climb from $1,250,000 to $1,275,000. This increase reflects Potomac's enduring status as a sanctuary for luxury living, with each percentage point underscoring its residents' affinity for opulence.
In the bustling heart of Bethesda, the market is abuzz with an 8% surge in median sold prices, from $1,083,500 to $1,170,000. Bethesda's robust growth trajectory is fueled by its urban appeal and the high desirability of its school districts and amenities.
Poolesville presents a narrative of recalibration, with a -3.6% shift in median sold prices, from $700,000 to $675,100. This adjustment reflects the market's natural ebb and flow, particularly in areas where the bucolic charm is part of the quintessential living experience.
Turning the pages to Kensington, we're met with an impressive leap of 18.3%, where median sold prices have vaulted from $685,000 to $810,000. This standout increase is testament to Kensington's rising profile as a community that's successfully blending accessibility with community charm.
Chevy Chase tells a tale of consistent growth, marking a 14.8% rise in median sold prices, from $1,055,000 to $1,211,000. This area's narrative is one of upscale living, with a market that continues to attract those seeking an elegant suburban lifestyle.
In Glen Echo, we see a celebration of culture translating into economic terms, with a 5.4% increase in median sold prices, from $1,115,000 to $1,175,000. This rise reflects the area's unique position in the market as a hub for arts and community engagement.
Contrasting dynamics are at play in Derwood and Olney, with Derwood seeing a slight -1.4% dip in median sold prices, from $649,950 to $641,000, while Olney enjoys a robust 10% rise from $555,000 to $610,500. These figures illustrate the diverse factors at play— from community investments to shifts in buyer preferences.
Frederick County, MD November Housing Market: A Slight Retracement
Frederick County, MD, has experienced a minor 1.1% decrease in median sold prices, now at $455,000. This slight pullback may offer new opportunities for market entrants.
In Monrovia, the median sold price has seen a descent of -8.2%, from a lofty $700,000 in 2022 to a more grounded $642,500 in 2023. This dip might reflect a market correction, aligning prices with buyer expectations.
Contrastingly, Jefferson has climbed by 11.4%, with the median price escalating from $538,500 to $599,900. This growth signifies a robust demand and a thriving community confidence. Adamstown's adjustment is more subtle, showing a decrease of -5.3%, moving from $640,000 down to $606,325. Such changes might hint at market stabilization or altered community valuations.
New Market's trend is steadily upward, with a 6.2% increase in median sold prices from $545,102 in 2022 to $579,000 in 2023, signaling a healthy and growing demand in the area. Mirroring this positive trend, Clarksburg also reflects a consistent increase, with median sold prices rising by 6.3% from $587,000 to $623,750. Such consistency is indicative of a stable and appealing market.
As the county seat, Frederick, MD, showed resilience with a modest 0.7% increase in median sold price, from $430,000 to $433,000, reflecting steady growth and sustained interest in the central hub of the county. Libertytown stood out with a remarkable 36.2% surge in its median sold price, skyrocketing from $235,000 to $320,000, possibly driven by new developments or a shift in buyer preferences towards rural living.
In a surprising turn, Rocky Ridge saw a significant -44.6% decline, with median prices falling from $812,500 to $450,000. This dramatic change could be attributed to outlier transactions or a temporary market slump.
Tuscarora's median sold price decreased by -8.1%, from $745,000 to $685,000, possibly reflecting a reevaluation of property values or an increase in the availability of more affordable housing options. Middletown saw a small pullback of -1.9% in median sold prices, from $520,000 to $510,000. This subtle repositioning might indicate a market that is finding its equilibrium.
Mount Airy's market remained relatively stable, showing a minor decrease of -1.1%, with median sold prices adjusting from $586,500 to $580,000, possibly reflecting its consistent desirability. In Walkersville, the median sold price decreased by -2.8%, from $422,000 to $410,000. This adjustment may signal a market poised for future growth or a response to broader economic conditions.
New Windsor experienced a positive uptick of 2.6% in median sold prices, from $429,950 to $441,210, suggesting an increased attraction to this community's offerings. Union Bridge's median sold price saw a gentle ebb of -1.3%, with a decrease from $355,000 to $350,250, perhaps reflecting a temporary slowdown in market activity.
The upscale area of Ijamsville presented a marginal growth of 0.8%, with median sold prices inching from $635,000 to $640,000, indicating a continued confidence in the area's real estate market. Smithsburg's median sold prices dipped slightly by -1.2%, from $319,900 to $316,000. This modest decrease might hint at a normalizing market after periods of aggressive growth.
Emmitsburg, steeped in history, held its ground with a minimal change of -1.2%, as median sold prices went from $410,000 to $405,000, possibly indicating a balanced supply-demand scenario in this historic town.
Prince Georges County, MD November Housing Market: Upward Momentum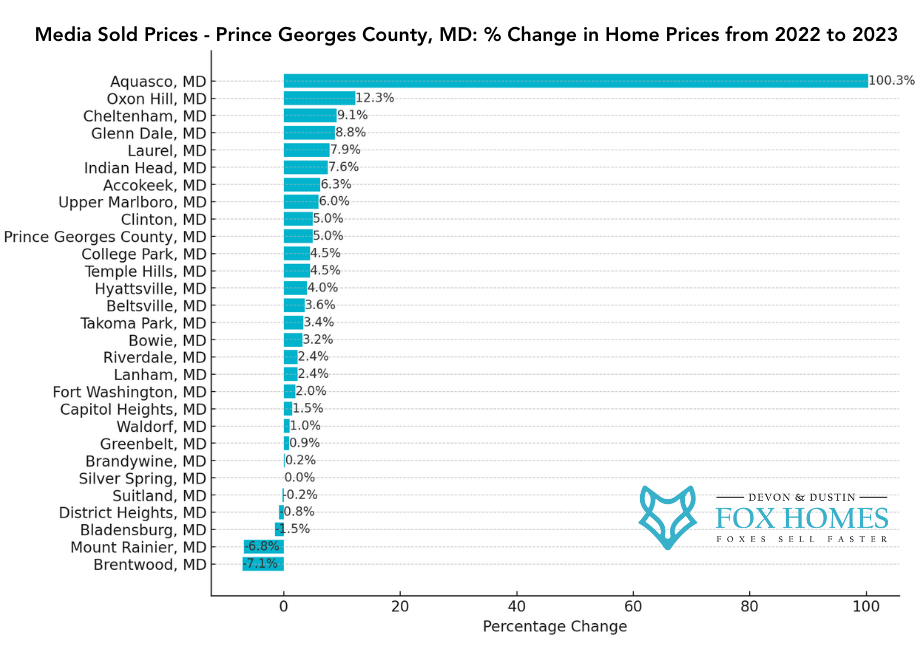 Prince Georges County's median sold prices have climbed by 5%, reaching $420,000. The county's commitment to economic development and affordable housing options is likely fueling this upward momentum.
Starting with Glenn Dale, MD, where the median sold price has escalated to $658,000 from $605,000 the previous year, an 8.8% increase signifies a robust demand in a desirable locale. The rise reflects confidence in the area's growth and a continued investment in the community's future. Conversely, Mount Rainier, MD, saw a median price drop from $563,500 to $525,000, marking a 6.8% decrease. This decline may cause concern, but it's also an indicator that the market is adjusting, potentially offering a more affordable entry point for new homebuyers.
Cheltenham, MD, presents a promising picture with a 9.1% jump in median sold prices, climbing from $430,000 to $469,000. This increment suggests a burgeoning suburb that's attracting more attention. Similarly, Beltsville, MD's increase from $415,000 to $430,000, up by 3.6%, may not be meteoric, yet it signals a steady appreciation in property value, ensuring homeowners that their investments are growing consistently.
Silver Spring, MD, remains a pillar of stability, holding at a median sold price of $500,000. This steadiness is crucial in a fluctuating market, providing both buyers and sellers with a sense of predictability. On the other end of the spectrum, Aquasco, MD, stands out with a jaw-dropping increase of 100.3%, catapulting from $347,000 to $695,000, suggesting an area undergoing significant transformation, possibly driven by luxury home sales or new developments.
Looking at the entire landscape of Prince Georges County, MD, the general trend points upward with a 5% increase in median sold prices, from $400,000 to $420,000. This growth reflects a healthy, appreciating market overall. However, it's not uniform, as some areas like Brentwood, MD, and District Heights, MD, have experienced slight downturns, -7.1% and -0.8% respectively, which could be attributed to various hyper-local factors or a market correction.
Across the board, these numbers serve as a mosaic of market trends. We see communities transforming, investment opportunities arising, and the dreams of homeownership taking flight. But percentages only begin to tell the tale. The true story unfolds on the streets of Prince Georges County, in the lives of its residents, and in the thriving communities that these numbers represent.
Frequently Asked Questions (FAQs)
Why has Falls Church City seen a notable decrease in median sold prices?
The decrease in Falls Church City could be due to a variety of factors, including a recent increase in inventory, shifting buyer preferences, or broader economic trends. It's important for potential buyers and sellers to consider how these factors might influence their real estate decisions in this particular market.
What makes Arlington County a consistently growing market?
Arlington County's growth can be attributed to its proximity to Washington D.C., a continuous influx of government and private sector jobs, and a highly rated school system. The area's ongoing development and urban renewal projects also contribute to its real estate market's resilience.
How does Alexandria City balance historic preservation with modern growth?
Alexandria City has a comprehensive plan that focuses on preserving its historical landmarks while encouraging modern development. This balance is achieved through strict zoning laws, incentives for property owners to maintain historic structures, and carefully planned new developments that complement the city's historic charm.
Is now a good time to buy in Washington D.C., given the decrease in median sold prices?
A decrease in median sold prices may indicate a more favorable market for buyers, but it's crucial to consider individual circumstances, including long-term goals, financial stability, and the potential for property values to increase. Consulting with a real estate expert can provide tailored advice for navigating the current market.
What are the driving factors behind the price increases in Fairfax and Loudoun Counties?
Price increases in Fairfax and Loudoun Counties are largely driven by the areas' economic growth, particularly in the technology sector, which has attracted a skilled workforce. Additionally, the counties' focus on education, safety, and community amenities continues to draw buyers.
Should the slight decrease in Frederick County's median sold prices cause concern for homeowners?
Market fluctuations are normal, and a slight decrease should not be a cause for immediate concern. Home values in Frederick County have seen long-term growth, and the area's affordability relative to the greater DC Metro area continues to attract buyers.
With Prince Georges County's median sold prices on the rise, is it still considered an affordable option in the DC Metro area?
Even with the recent price increases, Prince Georges County remains one of the more affordable options in the DC Metro area. It's essential for buyers to look at price trends, the total cost of ownership, and their personal finances when considering affordability.
Transform Your Home Sale Experience
With the Fox Homes Team, led by Devon and Dustin Fox, unlock the full potential of your property. Dominating the DC, Maryland, and Virginia real estate market, they boast an unparalleled 1,418 five-star Google reviews.
Forget the average — their innovative approach skyrockets your home's visibility to at least 100,000 views with captivating HGTV style videos, far exceeding the standard 2,000-10,000 views on Zillow, Redfin, and Realtor.com. We call that "of course marketing."
Through strategic investments in TV, YouTube, Facebook, and Instagram ads, your listing will be showcased to a vast audience, ensuring maximum exposure and attracting serious buyers.
Act Now! Seize this opportunity to benefit from a team where quality is the business plan. The right moment is now - elevate your home's market presence with Devon and Dustin Fox.
Contact the Fox Homes Team Today